All Aboard the Polar Express!
Student Author: Miranda F.
The Polar Express is a great Christmas book to read to young kids. It is about a little boy who gets told by a friend that Santa does not exist. That night, he lies in his bed, listening for Santa's sleigh. While listening, he hears a steam engine. He goes outside to meet the conductor who invites him on the train. The train is filled with little children going to the North Pole.

They go to the gathering of the first gift to be given. He is chosen for the
very first gift! He knows that he can choose anything in the world that he wants, so he chooses a silver bell from Santa's sleigh.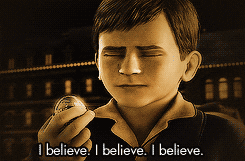 After the boy receives the bell, Santa needs to leave to deliver the rest of the gifts. All of the children get back on the train to return home. When the boy boards the train, he realizes the bell fell out of his pocket. He returns home that night upset about losing the bell.
On Christmas morning, his sister sees a small present still left under the tree. The present turns out to be her brother 's. He opens the present to find a small gift in remembrance of his night...

The moral is that belief may be personal; it's hearing or feeling. But we all learn that what makes Christmas special is that we all receive a little magic when we believe.
Merry Christmas!